12/07/2008
History tends to credit Noel Edmonds Multicoloured Swap Shop for inventing Saturday morning childrens TV as we know it. But the first attempt by the BBC was the decidedly strange and deeply psychedelic "Zokko!", which ran on Saturday mornings between 1969 and 1971.
Before 1969 Saturday morning consisted of re-runs of old film serials or cartoon series and then blanks screens until Grandstand started at midday. To fill the void veteran children's TV producer Molly Cox (partly responsible for Jackanory) devised a format, consisting of a mixture of animations, film clips, pop songs, live variety acts and narrated cartoons. In order to make the show more attention grabbing the show by a talking pinball machine named "Zokko!" (designed by Mike Ellis, the father of Blue Peter presenter Janet Ellis, and grandfather of singer Sophie Ellis-Bextor) which introduced the clips.
The programme is regarded as "the first electronic comic".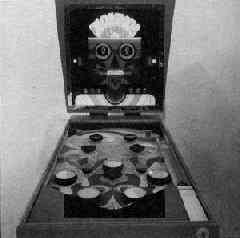 This bizarre early effort at Saturday morning TV progressed into the more familiar format that has pretty much defined Saturday morning television from the arrival of Saturday Scene and Multicoloured Swap Shop through to SMTV. The elements of the format are all there at the start: brash, eye-catching, fast paced, interspersed with serials and cartoons.
Apart from a compilation of highlights, only one complete episode remains in the BBC's archives.
offthetelly.co.uk feature on Zokko!
Keywords:
Previous Posts
Keyword Cloud
Aardman Animation
,
Bagpuss
,
Banana Man
,
Battle of the Planets
,
BBC
,
Blakes 7
,
Books
,
Boxed Set
,
Boxed Sets
,
Button Moon
,
Cartoons
,
Childrens TV
,
Chorlton and the Wheelies
,
Clangers
,
Cosgrove Hall
,
Dangermouse
,
Derek Griffiths
,
Doctor Who
,
Domesday
,
Douglas Adams
,
Downloads
,
DVDs
,
Filmation
,
Fred Harris
,
Free Game
,
History
,
Hitchhikers Guide to the Galaxy
,
Infocom
,
Ivor The Engine
,
Jamie and the Magic Torch
,
Keith Chegwin
,
Morph
,
Mr Benn
,
Mugs
,
Music
,
Olympics
,
Pootle
,
Rainbow
,
Remakes
,
Sci-Fi
,
Sesame Street
,
Soft Toys
,
Space Sentinels
,
Sport
,
Star Wars
,
The Adventure Game
,
The Family Ness
,
The Flumps
,
The Sooty Show
,
Trapdoor
,
Video Clips
,
Wattoo Wattoo
,
Zokko
,
Retro Shop
Links
Archive