25/06/2008
As if by magic... the shopkeeper appeared!
Mr Benn sets out on some amazing adventures. A balloonist, a cowboy, a wizard,and a spaceman - an ordinary man can become all of these things when he visits the magic costume shop.
Episodes from the cult classic children's animation that have enthralled generations; all 13 episodes from the origianl series and the new episode, Mr Benn, Gladiator, are now available on DVD for the first time!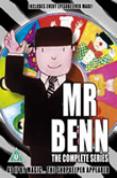 Get the Mr Benn DVD
Keywords:
Previous Posts
Keyword Cloud
Bagpuss
,
Battle of the Planets
,
Books
,
Cartoons
,
Childrens TV
,
Chorlton and the Wheelies
,
Dangermouse
,
He-Man and Masters of the Universe
,
Jamie and the Magic Torch
,
Knightmare
,
Mr Benn
,
Roobarb and Custard
,
The Adventure Game
,
Trumpton
,
T-Shirts
,
Video Clips
,
We Are The Champions
,
Retro Shop
Links
Archive