25/06/2008
"As if by magic... the shopkeeper appeared!" is one of the most well remmebered phrases from childhood. Get into a pub conversations about the best children's TV programmes and the name of the bowler hat wearing bloke in the suit invariably tops the list.
Mr Benn is an ordinary business man, who lives in an ordinary road, (52 Festive Road, for trivia buffs), and each episode he pays a visit to a magic costume shop he has discovered. As if by magic the shopkeeper appears and aids him in his choice of costume. Ushered into the changing room Mr. Benn would try on the costume and go through another door, to find himself in a different world, befitting the costume. There he has a different adventure every episode and perform good deeds - helping mermaids, dragons, hunters and even a genie. All thanks to the shopkeeper, who appears at the end to lead Mr Benn back to the changing room.
Some kids were wanted to be astronauts or firemen, I wanted to be Mr. Benn! If you were him, you could go anywhere, do anything.
But there are some unanswered questions: Where did Mr. Benn keep all the souvenirs from his adventures? and why didn't he tell the shopkeeper to "@%&@*% off!", every time he interrupted an adventure? I suppose we'll never know, but Mr. Benn remains one of my favourite cartoon memories, it's simple drawings, minimal animation and pleasant simple stories.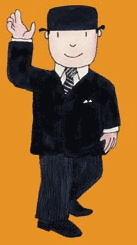 Books
Originally there were four books written by David McKee: Mr Benn Red-Knight, Big Game Benn, 123456789 Benn, and Big Top Benn. There were six original books planned, but the fifth and sixth were never published.
The fifth was called Mr Benn Rides Again, the story of which was used to make the television episode The Cowboy. The sixth, never completed, was Superbenn, in which the superhero Benn sets out on an environmental adventure.
A new story was published in 2001, the first Mr Benn story that David McKee had written in thirty years, and is called Mr Benn, Gladiator. A new Mr Benn TV episode was also produced, based on this story.
Keywords:
Previous Posts
Keyword Cloud
Acorn Archimedes
,
Adventure Books
,
Amstrad
,
Atari ST
,
Automan
,
Bagpuss
,
Banana Man
,
Battle of the Planets
,
BBC
,
BBC Micro
,
Books
,
Boxed Set
,
Boxed Sets
,
Button Moon
,
Cartoons
,
Childrens TV
,
Chorlton and the Wheelies
,
Clangers
,
Commodore 64
,
Commodore Amiga
,
Cosgrove Hall
,
Dangermouse
,
Dastardly and Muttley
,
Derek Griffiths
,
Doctor Who
,
Dragon 32
,
Filmation
,
Fred Harris
,
Glen A Larson
,
Hanna-Barbera
,
He-Man and Masters of the Universe
,
Ivor The Engine
,
Jamie and the Magic Torch
,
Keith Chegwin
,
Keyring
,
Knightmare
,
Mr Benn
,
Mr Men
,
Mugs
,
Nintendo
,
Pootle
,
Rainbow
,
Retro Gaming
,
Roobarb and Custard
,
Sesame Street
,
Sinclair ZX81
,
Soft Toys
,
Space Sentinels
,
Star Wars
,
The Adventure Game
,
The Family Ness
,
The Flumps
,
The Sooty Show
,
Trapdoor
,
Trumpton
,
T-Shirts
,
Vespa Scooter
,
Video Clips
,
Wacky Races
,
Wattoo Wattoo
,
We Are The Champions
,
Zokko
,
Retro Shop
Links
Archive