05/06/2008
It's amazing to realize that more than 30 years have passed since a young George Lucas took on more than he could chew and pulled off a cinematic miracle.
Star Wars has released and twiddled with more times than I'd care to count: The groundbreaking 1977 original, the remastered 1997 theatrical release, and the 2004 restoration / reimagining. Each time, the legends surrounding the film grow and people's memories become more and more clouded. What was wrong with Han shooting first, anyway? It's what one would expect from a ruthless mercenary.
J.W. Rinzler's The Making of Star Wars: The Definitive Story Behind the Original Film cuts through the myths and time-worn memories in an attempt to tell the true story behind this seminal sci-fi epic. The hardcover version runs 372 pages and outlines how a tale about "Annikin Starkiller" and "a huge green-skinned monster with no nose and large gills" named Han Solo evolved into the battle of good vs. evil that we know so well.
Intended for "Star Wars" fans and movie lovers this book presents the cinema history. It reveals how a small group of gifted artists and craftspeople led by one inspired writer-director overcame health-shattering obstacles while enlisting ingenuity heroism but most of all dogged determination to get to the end of their adventure.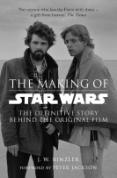 "Using his unprecedented access to the Lucasfilm Archives and its trove of never-before-published "lost" interviews, photos, production notes, factoids, and anecdotes, Star Wars scholar J. W. Rinzler hurtles readers back in time for an unprecedented behind-the-scenes look at the nearly decade-long quest of George Lucas and his key collaborators to make the "little" movie that became a phenomenon."
Previous Posts
Keyword Cloud
1980s
,
Acorn Archimedes
,
Adventure Books
,
Amstrad
,
Arcade Games
,
Atari
,
Atari ST
,
Automan
,
BBC Micro
,
Blondie
,
Books
,
Cartoons
,
Childrens TV
,
Clocks
,
Collectibles
,
Commodore 64
,
Commodore Amiga
,
Dallas
,
Dragon 32
,
Fancy Dress
,
Football
,
Gadgets
,
Glen A Larson
,
John Lennon
,
Keyring
,
Lego
,
Masks
,
Mr Benn
,
Mr Men
,
Nintendo
,
Pac-Man
,
Projector
,
R2D2
,
Retro Gaming
,
Rubiks Cube
,
Sinclair ZX81
,
Sport
,
Star Wars
,
Tie Fighter
,
Vespa Scooter
,
Wacky Races
,
Webcam
,
Retro Shop
Links
Archive