27/05/2008
Set in the south Hazzard County, cousins Bo and Luke Duke spent their days racing 'The General Lee' (a 1969 orange Dodge Charger) through county back roads, fighting the system, finding a way to foil and outwit corrupt county chief Boss Hogg and his dimwitted Police Department, and climbing into cars through the window!
Of course they couldn't have all that fun, or get themselves into so much trouble without the help of Uncle Jesse, Cousin Daisy, "Crazy" Cooter the Hazzard County mechanic.
Uncle Jesse was the patriarch of the Duke clan, and the father-figure to all Dukes, and Daisy was honest and kind, and looked great in hot pants! Although she could sometimes be slightly over-trusting and naïve, which led the Duke family into trouble on occasion.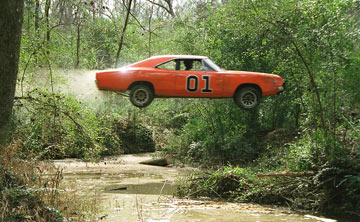 Trying to thwart the boys fun, for no various unspecified reasons, was Boss Jefferson Davis "J.D." Hogg ably abetted by the local law enforement, namely, Sheriff Rosco P Coltrane (or should that be Sheriff Rosco Peeeeee Coltrane, did you know the P stood for Purvis?), a basset hound named Flash, and deputies Enos and Cletus.
All the action took place at a time when sliding across the bonnet of the car was cool, getting into a car throught the door was just passe and CB radios were all the range, "Breaker 1, Breaker 1, I might be crazy but I ain't dumb... Craaaazy Cooter comin' atcha, y'all got yer ears on? Come back!",
I wasn't quite in trouble with the law since the day I was born, but I did get in trouble with my mum for trying the Dukes' trademark "hood slide" across my her Marina!
Keywords:
Previous Posts
Keyword Cloud
Airwolf
,
Box-Sets
,
Channel 4
,
DVD
,
Morph
,
Plastercine
,
Radio Controlled Toys
,
Take Hart
,
The A-Team
,
The Dukes of Hazzard
,
T-Shirts
,
TV
,
Vic and Bob
,
Vic Reeves
,
Retro Shop
Links
Archive