28/05/2008
The Who - in aid of the Teenage Cancer Trust - is currently running a competition to win The Who's Magic Bus - and it is a real bus, an original, customised Volkswagen T1 panel van from 1965.
It's also signed by The Who's Roger Daltrey (who is patron of the Teenage Cancer Trust) and Pete Townshend.
You have to pay £5 to enter (with a minimum of £3.50 from each entry going to the charity) and answer a ridiculously easy question.
All entrants get a free download of a previously unreleased live performance of The Who's 'Magic Bus' performed during the International Bus Meeting in Hannover in October 2007. If you are feeling lucky, the link below takes you to the band's competition page.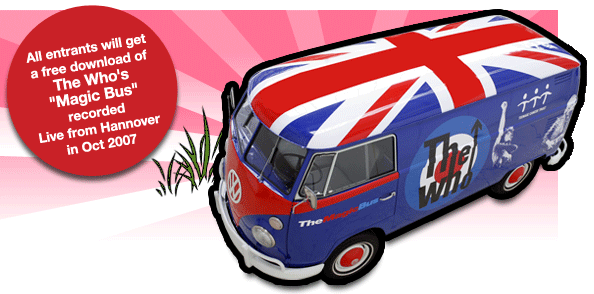 The Who's Magic Bus competition
Keywords:
Previous Posts
Keyword Cloud
Camper Van
,
Money Box
,
Radio Controlled Toys
,
Retro Camping
,
Tent
,
The Who
,
USB Toys
,
Vespa Scooter
,
Volkswagen
,
VW
,
Retro Shop
Links
Archive