27/05/2008
Remember those days spent/wasted in dimly lit arcades stuffing 10 pences into the latest arcade machines?! Now you can have one at home!
With a few 21st century updates including digital sound, dynamic graphics, and a high res, colour monitor you'll get the classic experience with enhanced hardware – making it the perfect play! Like the classic machines you can also play with, or against someone with the 1 or 2 person player option.
Over 150 all-time favourite arcade games packed into just one fantastic machine, including Spy Hunter, Arkanoid, Bomber Man, Bomb Jack and World Cup Soccer click here for a full list. It's the ultimate in retro cool for everyone in the family - old & young alike - providing endless hours of exciting action & fun.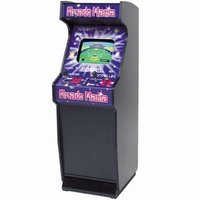 I think you'll have be be dedicated to retro gaming, it's only £1,399 (ONLY!!) at DrinkStuff, but you do save a fortune in 10 pence pieces!
Keywords:
Previous Posts
Keyword Cloud
Commodore 64
,
Emulators
,
Gadgets
,
Geometry Wars
,
Indianna Jones
,
Jeff Minter
,
Lego
,
Nintendo
,
Nintendo DS
,
Nintendo Wii
,
Super Mario
,
Video Games
,
Wacky Races
,
Wii
,
Xbox
,
Retro Shop
Links
Archive