14/06/2008
A three-disc compendium of classic British children's TV programmes: Clangers, Bagpuss and Ivor The Engine
The Clangers: those weird creatures from the early 70s voiced by swanee whistles living on their planet of cheese that they share with the Soup Dragon and the Iron Chicken...
Bagpuss: "Bagpuss... dear Bagpuss... old Fat Furry Catpuss... wake up and look at this thing that I bring." So began every episode of Bagpuss. Made in 1974 it was to become one of the most popular childrens series in the uk ever despite only comprising 13 episodes in total. A fat old toy cat in a second hand shop presides over a series of creatures that come alive to discuss the item the mice have brought before the cat.
Ivor The Engine: The Thomas The Tank Engine of his day - a heavily Welsh-centric animated engine from 'the top left corner of Wales'. The voiceovers were hilariously country Welsh and the characters named after the old welsh naming system.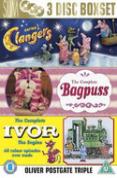 Clangers, Bagpuss and Ivor The Engine
Keywords:
Previous Posts
Keyword Cloud
Bagpuss
,
Banana Man
,
Battle of the Planets
,
BBC
,
Books
,
Boxed Set
,
Boxed Sets
,
Button Moon
,
Cartoons
,
Childrens TV
,
Chorlton and the Wheelies
,
Clangers
,
Cosgrove Hall
,
Dangermouse
,
Derek Griffiths
,
Doctor Who
,
Filmation
,
Fred Harris
,
He-Man and Masters of the Universe
,
Ivor The Engine
,
Jamie and the Magic Torch
,
Keith Chegwin
,
Knightmare
,
Mr Benn
,
Mugs
,
Pootle
,
Rainbow
,
Roobarb and Custard
,
Sesame Street
,
Soft Toys
,
Space Sentinels
,
Star Wars
,
The Adventure Game
,
The Family Ness
,
The Flumps
,
The Sooty Show
,
Trapdoor
,
Trumpton
,
Video Clips
,
Wattoo Wattoo
,
We Are The Champions
,
Zokko
,
Retro Shop
Links
Archive