10/06/2008
The much loved TV science fiction series BLAKE'S 7 returns, re-imagined as a series of all-new audio adventures.
In the third century of the second calendar, the galactic Federation, once a beacon of democracy and peace, has become a corrupt tyranny. Freedom and Justice are things of the past.
The final disc of the trilogy boasts an impressive array of extras including an exclusive behind-the-scenes documentary with the cast, writers and director discussing the production of the all-new audio adventures, the influence of the classic series and what the future holds in store for Blake's 7.
In addition there are SCI FI channel mini-documentaries, an extended remix of the new Blake's 7 theme tune, exclusive wallpaper images and a blooper reel, plus a special tribute track by indie band, Slashed Seat Affair.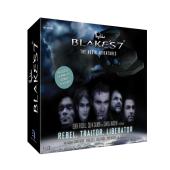 Previous Posts
Keyword Cloud
Aardman Animation
,
Bagpuss
,
BBC
,
Blakes 7
,
Childrens TV
,
Domesday
,
Douglas Adams
,
Downloads
,
DVDs
,
Free Game
,
History
,
Hitchhikers Guide to the Galaxy
,
Infocom
,
Morph
,
Music
,
Olympics
,
Podcasts
,
Remakes
,
Sci-Fi
,
Sport
,
The Adventure Game
,
The Flumps
,
Zokko
,
Retro Shop
Links
Archive