12/06/2008
Remember in the days before digital music and MP3 players? If you do, then you probably made compilations of all your favourite music, to share with your friends and loved ones, on good old fashioned blank cassette tapes.
If you miss making mix tapes this product will inspire you again! A C60 Mix Tape Stores up to 1 hour of high quality digital music - the same amount as you get on a C60 cassette tape. Perfect for creating your own unique compilation or mix tape. When you have 60 minutes you have to think carefully about what you are going to put on there! Then just like in the good old days write your own title, messages and play list all over the retro gift pack.
Create your own unique mix tape in 4 simple steps...
- Add your own sounds to the USB stick.
- Place the stick inside the tape style gift pack.
- Write your own message and playlist.
- Give it to the one you love!
64MB USB Memory Stick: Store your own mix on the USB stick by plugging into your computer, then add MP3 or any other files to the USB stick. Also great news, the USB memory stick is Mac and PC compatible.
Dimensions (closed):Width: 10cm Height: 6.5cm Depth: 1cm
Available in 6 different retro designs.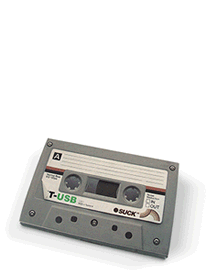 USB Mix Tapes at Prezzybox
Previous Posts
Keyword Cloud
Links
Archive