13/06/2011
Hear your music from another angle!
Catch the eye and ear of everyone with Ion Vertical Vinyl, a wall-mountable turntable. Vertical Vinyl is a fun, new way to experience your records - you can listen to them whilst they literally hang on the wall.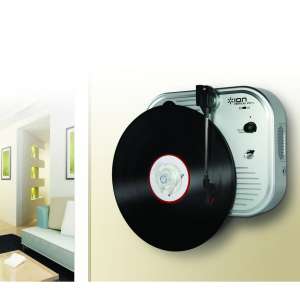 Vertical Vinyl will impress your friends and guests by defying gravity when playing records sideways. It is a great way to play your favourite records and save surface space in your living room, kitchen, office or bedroom because of its wall-mount design.
Vertical Vinyl is the perfect home accessory for music lovers to express their musical personality, turn your old 45s into a decorative retro-styled piece of art.
Take advantage of its battery powered operation to play your records wirelessly. Change the record to suit your mood and create a talking piece that your guests will love.
So start digging out all those rare and treasured records and start enjoying them again.
Features:
- Instantly listen to your music using the built-in speaker with volume control
- Play any record you own by choosing between 33 or 45 RPM platter speeds and using the 45 adaptor included with Vertical Vinyl
- You can connect headphones to listen to your records without disturbing others or use the headphone output to connect to a stereo if you want a bigger sound
- Vertical Vinyl plays up to 12" records so you can listen to you LP collection as well
Previous Posts
Keyword Cloud
1980s
,
Album Covers
,
BBC
,
Breville
,
Clocks
,
Dangermouse
,
Football
,
Gadgets
,
James Brown
,
John Lennon
,
Lego
,
Mr T
,
Music
,
Nintendo
,
Only Fools and Horses
,
Pong
,
Projector
,
R2D2
,
Radios
,
Sport
,
Star Trek
,
Star Wars
,
Stylophone
,
Super Mario
,
The A-Team
,
The Beatles
,
The Hitchhikers Guide to the Galaxy
,
Turntable
,
Video Games
,
Vinyl
,
Watch
,
Watches
,
Retro Shop
Links
Archive