31/05/2011
This officially licensed, tribute to an 80s icon diddly-woos you out of boboland via the evocative start-up tune from Pac-Man. It even emits a few seconds of spine-tingling wakka-wakka-ing. You'll be transported back to the arcade the second you hear it. You might even start checking your 'jama pockets for ten pees.
Battery operated, this eye-catching Pac Man alarm clock features Snooze, Alarm Off and Backlight buttons represented by cherries, a bell and naughty ol' Pinky – and if that particularly 80s name means nothing to you, there's little point telling you about our other recurring dream involving Gorf, Duran Duran and Kim Basinger. Wakka-wakka!
There's nothing like waking up to the iconic Pacman tune to set you up for a day of work and eating ghosts.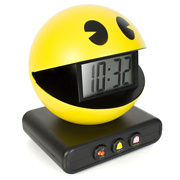 Wakka-wakka-wakka-wakka...

More retro clocks
More Pac Man gifts

Previous Posts
Keyword Cloud
50s
,
Clocks
,
Furniture
,
Gadgets
,
Handheld Games
,
Kitchen Gadgets
,
Lamps
,
Lego
,
Pac Man
,
Star Wars
,
Retro Shop
Links
Archive