02/06/2011
Did you spend a good portion of your childhood and your allowance blasting 2-dimensional aliens to smithereens?
Spend a good portion of your adult life in the kitchen?
Trying to find a way to combine to two?
No, well maybe you should...
Space Invaders, like Pac-Man, is one of the most famous retro computer games known to man and is now over 30 years old and to celebrate, we've found this fantastic selection of kitchen gadgets!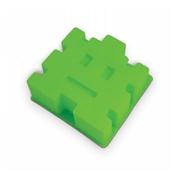 Space Invaders Cake Mould
For all you Space Invaders fans this must be the coolest birthday cake ever. The space invader mould helps you to easily bake your very own invasion fleet.

Friends will definitely give you the high-score when you serve them a tasty alien from this classic 80s cake mould.
Bake me to your leader!
The cake mould is made from silicon and I'm sure would make an ideal Jelly mould too.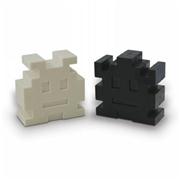 Retro Arcade Salt And Pepper Shakers
Add some geek-chic to your table with these pixilated killer condiments. Every meal should be spiced up with these nostalgic space-age seasoners. They've landed!
This fantastic Ice Invaders Ice Tray is full of your favourite little 2 dimensional aliens, ready to score their way into your favourite cold beverages.
The tray itself is made from soft, flexible silicone, making it easy to push out each of the Space Invaders.
Great gifts for retro parties, kids parties, anyone born in the 80's and arcade game lovers alike!
Relive the excitement and blast your beverages with these icy aliens. Create Space Martian Malibu, Extra Terrestrial Tequila and Alienize your Afterburner with the Ice Invaders Ice Tray!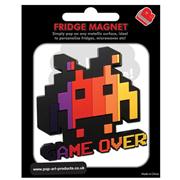 Space Invader Pvc Fridge Magnet

Space Invader Pvc Fridge Magnet
PVC fridge magnet. Measures 6.5 x 5.5cm
It's time to re-live a childhood spent zapping aliens!
Keywords:
Previous Posts
Keyword Cloud
Links
Archive