08/06/2008
We all remember racing cars on Scalectrix TCR and Race and Chase? Well re-live those childhood memories with this fantastic Desktop Racing Mini set.
These are fantastic fun for big and small boys alike! We all rememeber the frustrations with the cars spinning off the track. Well with Desktop Mini Racing the cars are never far from where you sit!
Play either on your own or in a competition with your mates! Track space on your deskto is 97cm x 48cm and with 2.32m (7') of track it will keep you entertained for hours. Included in the set are two mini racing cars (with working head lights) two hand controllers curved track straight track bridge section guard rail support and a start/finish post. Desktop Mini's Racing track can be set up as a oval or as a figure of eight.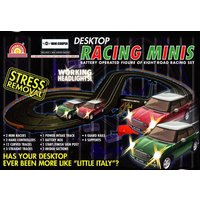 Desktop Racing - Mini Cooper Chase
Keywords:
Previous Posts
Keyword Cloud
Links
Archive