19/08/2008
A small, yet very cool, webcam modelled on Darth Vader's Tie Fighter!
It comes in at a very reasonable £18 abd features a built-in microphone so you can hum the theme tune and make space battle laser sounds when no one is looking.
Unfortunately it's not released until 30 Oct 2008 but you can pre-order it now from Play.com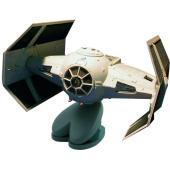 More details about "Darth Vader Tie Fighter Webcam"
Keywords:
Previous Posts
Keyword Cloud
1980s
,
Arcade Games
,
Atari
,
Blondie
,
Books
,
Childrens TV
,
Clocks
,
Collectibles
,
Dallas
,
Fancy Dress
,
Football
,
Gadgets
,
John Lennon
,
Lego
,
Masks
,
Pac-Man
,
Projector
,
R2D2
,
Rubiks Cube
,
Sport
,
Star Wars
,
Tie Fighter
,
Webcam
,
Retro Shop
Links
Archive