08/08/2008
It has been 30 years since Lego launched its much-loved minifigure, designed by Jens Nygaard Knudsen. Since first appearing on the market in 1978, the little yellow figure has gone from strength to strength.
The familiar little yellow men and women with funny hair and bemused expressions were the culmination of years of work.
Knudsen sawed and filed LEGO bricks until eventually he ended up with a small figure looking like … a cross between a LEGO brick and a human being. A little angular figure with a round head and no facial expression, with contours of arms and legs – but a figure which could only be placed, moved and placed in a new position.
This figure, which quickly became known as "the extra", enjoyed a fair success in the early 1970s.
Knudsen kept experimenting and refining his prototypes carved from LEGO bricks, their later cousins were cast in tin, eventually creating the stocky flexible design icon we see today – since 1978 the design has only been modified by a matter of millimetres.
It's designed to hold a Lego brick in its hand, and to plug stand or sitting on top of other Lego elements.
The minifigure's body is three bricks high and comprises eight parts: two arms, two hands, two legs, a torso and a hip joint. The eight parts are held together by a special "snap system" which cannot easily be taken apart.
The figures were totally asexual until the first female figure, a nurse, arrived in 1980. Since then the population has exploded and all sort of personalities from Harry Potter to Batman and Spiderman can now be seen to be climbing all over Lego creations all over the world.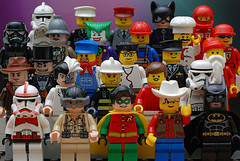 Links:
minifig
Keywords:
Previous Posts
Keyword Cloud
Clocks
,
Football
,
Gadgets
,
Indianna Jones
,
iPod
,
James Bond
,
Lego
,
Memory Stick
,
Minifigures
,
Speaker
,
Star Wars
,
Theme Parks
,
USB Toys
,
Video Clips
,
Video Games
,
Wii
,
Retro Shop
Links
Archive