08/08/2008
Play.com have some cool "Game Over" retro gaming mugs at Only £3.99 including Free Delivery!!!
Funky Retro Licensed durable dishwasher proof mugs with vivid prints.
Gift boxed in lovely packaging. Quality mug features a large printed outside of the mug featuring the funky design as well as a smaller decal actually inside the mug. All come gift boxed.
Limited Edition - only 1000 made worldwide!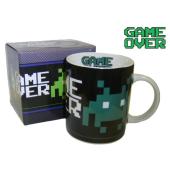 Find out more about "Game Over Mugs"
Keywords:
Previous Posts
Keyword Cloud
Cartoons
,
Childrens TV
,
Dangermouse
,
Downloads
,
Evel Knievel
,
Free Games
,
Mastertronic
,
Mega Man 9
,
Mugs
,
Retro Games
,
Super Mario
,
Retro Shop
Links
Archive