06/07/2011
Join Dick Dastardly and the gang in all the racing fun and madness, Wacky Races style! Wacky Races: Crash & Dash is an action racing game like no other with fun-filled environments crazy cars and all your favorite, hilarious characters from the original TV series.
Choose your vehicle from one of 10 Wacky Racers, but choose carefully as fastest doesn't always mean best! Compete in a series of cross-country rallies where anything goes! Watch out for Dick Dastardly and Muttley's traps, and use your racer's unique abilities inspired by some of the crazier sequences in the cartoon series.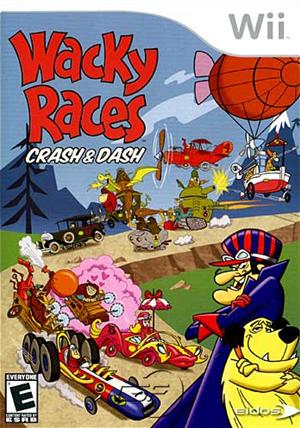 Wreak havoc on your opponents! Each Wacky Racer has their own hilarious set of Wacky Powers unique to their own car, including one "Way Out Wacky Power," guaranteed to give you a truly cruel advantage over the others.
Wholesome family fun! Wacky Races is all about inclusive, sociable fun that any member of the family can pick up and play.
Instead of just flat colors and toon shading, Wacky Races is rendered in a way that recalls the rich, graphic, and very stylised appearance that was popular in many 1960's TV Cartoons. These retro sensibilities are combined with modern graphical effects and 3D animations to help the art to pop off the screen!
Players view the action from a third-person three quarters perspective that keeps all of the contestants on screen at once. Thanks to this single-screen solution you can play with three friends without diluting the experience with split-screen and all of the problems associated with it!
If your looking for a serious racer this game is not it!!! But, for nostalgia or if you are looking for a party game to play for 30mins sessions and laugh at the wacky racers and commentry this game is worth picking up!!!
An ideal family game, aimed more at 4+ than a serious gamer, but then it's Wacky races, what really did you expect!!
Wacky Races: Crash & Dash - Nintendo DS and Wii
Keywords:
Previous Posts
Keyword Cloud
Books
,
Cartoons
,
Commodore 64
,
Dastardly and Muttley
,
DVD
,
Emulators
,
Gadgets
,
Geometry Wars
,
Hanna-Barbera
,
Indianna Jones
,
Jeff Minter
,
Keyring
,
Lego
,
Nintendo
,
Nintendo DS
,
Nintendo Wii
,
Super Mario
,
Video Games
,
Wacky Races
,
Wii
,
Xbox
,
Retro Shop
Links
Archive