20/10/2008
Three celebrity contestants were kidnapped transport by space ship (or by London Underground) to the planet Arg, inhabited by shapeshifting dragons known as Argonds, to complete a number of tasks for the entertainment of a cross aspidistra called the Rangdo!
The programme is often considered to have been a forerunner of The Crystal Maze as the celebrities had to complete tasks or games in order to achieve their overall goal (e.g. regain their crystal and return to their ship).
The show climaxed with the Vortex. Players cross a gameboard without stepping on the same point as the Vortex. The Vortex couldn't move into the players area, but players could step onto the Vortex.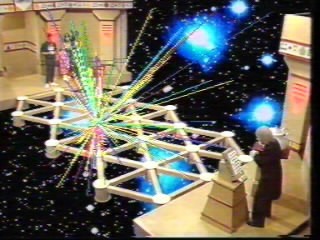 Being zapped by the Vortex meant a long trip home through space on foot. Brrr.
Did you know that Moira Stewart played a dragon in the first series, before she was a news reader!
Bring back The Adventure Game!! Gronda Gronda!!
Links:
BBC: The Adventure Game title sequence
Keywords:
Previous Posts
Keyword Cloud
80s
,
Aardman Animation
,
Adam and the Ants
,
A-Ha
,
Airwolf
,
ALF
,
Animal Magic
,
Atari
,
Audi Quatro
,
Automan
,
A-Z
,
Bagpuss
,
Banana Man
,
Battle of the Planets
,
BBC
,
BBC Micro
,
Blakes 7
,
Books
,
Boxed Set
,
Boxed Sets
,
Button Moon
,
Cartoons
,
Childrens TV
,
Cholo
,
Chorlton and the Wheelies
,
Chuckie Egg
,
Clangers
,
Cosgrove Hall
,
Dangermouse
,
Derek Griffiths
,
Doctor Who
,
Domesday
,
Douglas Adams
,
Downloads
,
DVDs
,
Elite computer game
,
Filmation
,
Fred Harris
,
Free Game
,
He-Man and Masters of the Universe
,
History
,
Hitchhikers Guide to the Galaxy
,
Infocom
,
Ivor The Engine
,
Jamie and the Magic Torch
,
Keith Chegwin
,
Knightmare
,
Morph
,
Mr Benn
,
Mugs
,
Music
,
Olympics
,
Pootle
,
Rainbow
,
Remakes
,
Roobarb and Custard
,
Sci-Fi
,
Sesame Street
,
Soft Toys
,
Space Sentinels
,
Sport
,
Star Wars
,
Teletext
,
The Adventure Game
,
The A-Team
,
The Family Ness
,
The Flumps
,
The Sooty Show
,
Trapdoor
,
Trumpton
,
Video Clips
,
Wattoo Wattoo
,
We Are The Champions
,
Zokko
,
Retro Shop
Links
Archive