30/09/2008
Part shopping guide, part lifestyle handbook, 'The Essential Guide to London's Retro Shops' is a timely and colourful celebration of the growing demand for all things vintage.
Whether it's sixties scooters, vintage clothes, or original furniture classics, the passion for the recent past is causing a stir worldwide, and nowhere more so than in London. Appealing to locals and tourists alike, this guide covers a huge variety of retro shops sorted into five main types: furniture and design (Pad), clothing and accessories (Threads), music (Tunes), cars, scooters and bikes (Wheels), and cafes and bars (Nosh).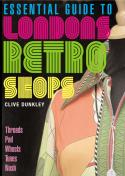 More details about "Essential Guide to Londons Retro Shops"
Keywords:
Previous Posts
Keyword Cloud
Acorn Archimedes
,
Adventure Books
,
Amstrad
,
Atari ST
,
Automan
,
BBC Micro
,
Books
,
Cartoons
,
Childrens TV
,
Commodore 64
,
Commodore Amiga
,
Dragon 32
,
Glen A Larson
,
Keyring
,
Mr Benn
,
Mr Men
,
Nintendo
,
Retro Gaming
,
Sinclair ZX81
,
Star Wars
,
Vespa Scooter
,
Wacky Races
,
Retro Shop
Links
Archive