05/09/2008
Remember all those fabulously kitsch 70s sweets that instantly transport you back to those heady days?
Well 'A Quarter Of...' have put them all together in one fabulous 70s Decade box of goodies, so if you're looking for an original present, look no more!
They've been getting our sweetie anoraks out, and done masses of research into all things sweetie related, and here's the result: a stonkingly massive wooden chest (with a fab 70s style label - yeah baby!) full to the brim with all the very best 70s retro sweets!
It weighs a WHOPPING 3.2 kg (that's 7lb!) and it measures 28cm x 18cm x 18cm (11in x 7.1in x 7.1in), and it contains all these lovely goodies that will make the lucky recipent go all misty-eyed:
Sherbet Lemons, 250g
Curly Wurly, 4 sticks
Space Dust, 5 sachets
Love Hearts, 4 tubes
Golf Ball Bubble Gum, 250g
Anglo Bubbly, 250g
Strawberry Bootlaces, 1 pack
Milk Teeth, 250g
Sherbet Filled Fruits, 4 fruits
Refreshers Chews, 250g
Fruit Pastilles, 4 tubes
Rainblo Bubble Gum, 250g
Tootie Frooties, 2 packs
Foiled Ice Cups, 250g
Chocolate Sticks, 2 packs
Yeah baby!!!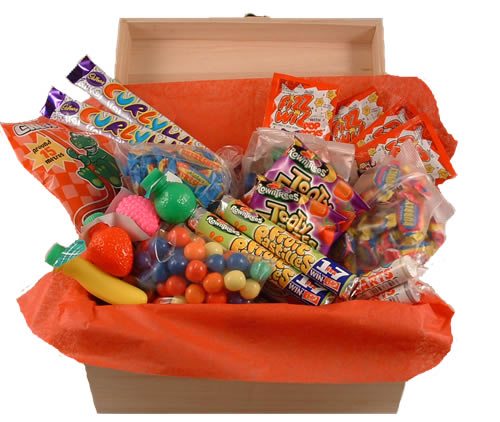 More details about "70's Decade Sweet Box"
Keywords:
Previous Posts
Keyword Cloud
Links
Archive