04/08/2008
The most popular plaything from the 70s is back and it's better than ever!
The 1970s may well have been the decade that taste forgot but it was peppered with all-American heroes: from the Six Million Dollar Man and Vegas-era Elvis to Fonzie, Muhammad Ali and Burt Reynolds. But for lovers of derring-do, there was only one idol worth worshipping: Evel Knievel.
Whether he was plummeting down a canyon or going for a burton whilst attempting to leap over a load of London buses, our bourbon-soaked hero managed to generate more column inches than any other accident-prone stuntman in history.
But the main thing Evel Knievel will be remembered for is the ludicrously popular toy bearing his name and now you can recreate those wonder years with these re-issued classics. The Evel Knievel Super Stunt Set and the Evel Knievel Super Stunt Cycle have been made using the original 70s moulds. The memories will come flooding back the second you start cranking the handle. Evel's incredibly sturdy stunt bike still shoots down staircases, whizzes along corridors and scares the living daylights out of cats and dogs. It also allows you to perform the frankly insane stunts Evel made famous over 30 years ago - including wheelies, jumps, flips and wince-inducing wipe-outs.
Winding up a crazy biker has never been such fun!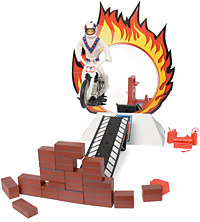 Keywords:
Previous Posts
Keyword Cloud
Board Games
,
Collectibles
,
Evel Knievel
,
Fisher-Price
,
Indiana Jones
,
Mr Potato Head
,
Mugs
,
Nintendo
,
Reminiscing
,
Slinky
,
Space Hopper
,
Toys
,
Retro Shop
Links
Archive