09/04/2008
He was just "an old, saggy cloth cat, baggy, and a bit loose at the seams" but, according to a recent BBC on-line poll he is the favourite children's TV animal of all-time.
In a previous BBC poll Bagpuss was voted the all-time favourite in a BBC poll of children's shows.
Even though I seem to remember my whole childhood watching Bagpuss, only 13 episodes were made.
In each episode, Emily, the young girl who lived at the shop give the cat an object that she had found. She would wake up Bagpuss who would then wake his friends - including Professor Yaffle, Gabriel the Toad and the mice from the Mouse Organ - who would identify and repair the item.
"Bagpuss, dear Bagpuss
Old Fat Furry Catpuss
Wake up and look at this thing that I bring
Wake up, be bright, be golden and light
Bagpuss, oh hear what I sing"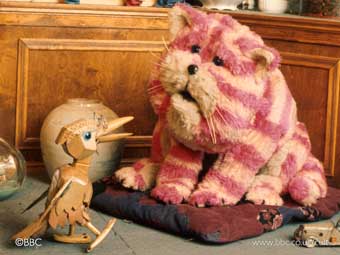 My favourite episode is the one where the mice use a toy wooden mill to make unlimited chocolate biscuits from butter beans and breadcrumbs, but it turns out the mice were having fun with Professor Yaffle as the mill produces is the same chocolate biscuit everytime.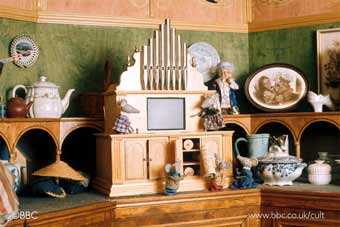 "Bagpuss gave a big yawn, and settled down to sleep.
And when Bagpuss goes to sleep, all his friends go to sleep too.
The mice are ornaments on the Mouse Organ, Gabriel and Madeleine are just dolls.
And Professor Yaffle is just a carved wooden book-end in the shape of a woodpecker.
Even Bagpuss himself, once he is asleep, is just an old, saggy cloth cat - baggy and a bit loose at the seams.
But Emily loved him."

Keywords:
Previous Posts
Keyword Cloud
Aardman Animation
,
Bagpuss
,
Banana Man
,
Battle of the Planets
,
BBC
,
Blakes 7
,
Books
,
Boxed Set
,
Boxed Sets
,
Button Moon
,
Cartoons
,
Childrens TV
,
Chorlton and the Wheelies
,
Clangers
,
Cosgrove Hall
,
Dangermouse
,
Derek Griffiths
,
Doctor Who
,
Domesday
,
Douglas Adams
,
Downloads
,
DVDs
,
Filmation
,
Fred Harris
,
Free Game
,
He-Man and Masters of the Universe
,
History
,
Hitchhikers Guide to the Galaxy
,
Infocom
,
Ivor The Engine
,
Jamie and the Magic Torch
,
Keith Chegwin
,
Knightmare
,
Morph
,
Mr Benn
,
Mugs
,
Music
,
Olympics
,
Pootle
,
Rainbow
,
Remakes
,
Roobarb and Custard
,
Sci-Fi
,
Sesame Street
,
Soft Toys
,
Space Sentinels
,
Sport
,
Star Wars
,
The Adventure Game
,
The Family Ness
,
The Flumps
,
The Sooty Show
,
Trapdoor
,
Trumpton
,
Video Clips
,
Wattoo Wattoo
,
We Are The Champions
,
Zokko
,
Retro Shop
Links
Archive