23/08/2011
The world's greatest Mouse detective and secret agent Dangermouse with his trusty sidekick Penfold achieved cult status and in 1983 viewing figures topped 21 million and the show came third in the Channel 4 poll-slash-TV show "100 Greatest Kids' TV Shows", beaten only by The Muppet Show and The Simpsons.
This very British animated television series which was produced by Cosgrove Hall and generally parodies British spy fiction, particularly James Bond and the Danger Man as well as entertaining kids of all ages with quick fire and sarcastic humour.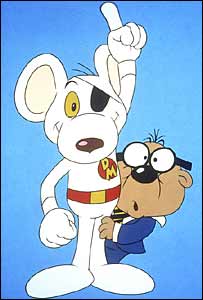 All the characters are animals and the adventures take place amongst the human world; in this human sized world there are various examples of a mouse-sized Danger Mouse walking through human-scale sets, standing on table-football tables and, famously, living inside a normal size post box on Baker Street (Dangermouse actually lived just outside Sherlock Holmes' house!).
The show originally ran in the United Kingdom from 1981 to 1992 and was one of the few British cartoon to break into the American TV market where it had a tremendous fan following that still exists as the series appealed to both pre-teens and adults with its quick-witted British humour.

Each ten minute episode needed over 2,000 individual drawings. A frequent 'cost-cutting' technique were "in the dark" sequences, which were pitch black with only eyeballs (or eyeball in Danger Mouse's case) visible. The animation team also reused 'locations' from episdoe to episode, and frequently set episodes in The North Pole where the icy, snow-covered backgrounds would require minimal painting and colouring.
Our Heroes!
Danger Mouse - voiced by David Jason
The world's greatest secret agent, so secret in fact that his codename has a codename.
He speaks 34 languages fluently, including some extraterrestrial ones.
He regularly balances himself on his index finger and bounces up and down on it ("a 7th level Yoga-Hopping Trance").
His eyepatch is not actually needed and is worn "because it's part of the suit."
Ernest Penfold - voiced by Terry Scott
Penfold is Danger Mouse's reluctant sidekick, a timid, bespectacled hamster.
he is often captured or getting himself into other dangerous situations
He is terrified at any sign of danger, and cries "Crumbs, DM!", "Ooh-eck!", "Ooh-Fiddle!" and "Ooh-Carrots!".
Colonel K - voiced by Edward Kelsey
Danger Mouse's boss I always thought he was a walrus, in fact, he is a chinchilla.
He became more absent-minded as time went on, and tended to ramble nonsense.
Isambard Sinclair - voiced by David Jason
The unseen narrator, but occasionally interacts with the characters, sometimes to the point of halting the plot for one reason or another (in one episode he accidentally sends DM back in time). Often voices his disdain for the show and his job. He usually comments at the end of every episode when the credits roll before the end theme tune begins.
"And so we come to the end of another load of - of another amazing adventure. But still some mysteries remain unsolved. If Penfold doesn't get his humbugs back, will it mean he's lost his stripes? Is a twenty four hour candy eating contest rock around the clock? And the biggest mystery of all: why do you watch this stuff? Now listen, I'm giving a poetry reading tonight, and don't fade me out, I haven't finished yet. I want you to come get some education. Now please don't fade me! Listen please! I need the money."

The Bad Guys
Baron Silas Greenback - voiced by Edward Kelsey
A toad with a wheezy voice and he recurring villain and archenemy of the "White Wonder" or "Wretched Rodent".
He supposedly turned to a life of crime as a schoolboy when other children stole his bicycle.
Nero
Greenback's pet. Where some arch villains have the stereotypical white cat Greeback has fluffy white caterpillar.
Stiletto Mafiosa - voiced by Brian Trueman
Greenback's henchman; a crow; and Italian stereotype - "Sì, Barone!"
Count Duckula - voiced by David Jason
A showbiz-obsessed vampire duck who wanted to get his own show. Later starred in a spin-off series, where he a vegetarian when he is resurrected during the Astronomical House of Asparagus. Instead of a adding blood, the nanny puts tomato ketchup into the potion, creating the world's first vegetarian vampire duck.
There are lots of other bad guys who appear for one or two episodes only:
Copper-Conk Cassidy: who caused everyone who encountered him to literally fall to pieces in sheer terror.
Doctor Frankenstoat: built machines to aid a bid for world domination.
J. J. Quark: A short, helmet-wearing, snout-nosed space alien who speaks with a Scottish accent.
Grovel: His robot who is programmed to obey Quark's every command. When Quark calls his name, however, the robots falls down flat on the ground face down and says, "I'm sorry! I'm sorry, master!", obeying Quark's command to "grovel."
The Fangboner: A hideous and sharp-toothed alien beast that the aforementioned Quark unleashed on Danger Mouse and Penfold.
El Loco: A violent stereotypical Mexican "Bandito" type criminal who packs a few pistols loaded with Mexican jumping beans.
General Ro-Mole: A parody of German Field Marshal Rommel, who rides a cannon-armed tortoise rather than a tank.
Although rumours of a CGI revival have persisted in recent years sadly it doesn't look like DM and Penfold will return to our screens anytime soon, you'll just have to make do with the DVDs.
He's the ace, he's amazing!
He's the strongest, he's the quickest, he's the best.

Dangermouse... Dangermouse... Dangermouse!!!
---
Dangermouse: 25th Anniversary Complete Collection (12 Discs)
"He's the greatest! He's fantastic! Where ever there is danger he'll be there!"
The world's greatest mouse detective Dangermouse together with his bumbling sidekick Penfold embark on a series of devilishly dangerous and definitely death defying missions.
This monolith of a boxed set features every episode ever made of the cult childrens TV programme; featuring a host of new extras to commemorate the 25th anniversary of Dangermouse.

19/08/2011
100 Greatest Kids' TV Shows was broadcast on Channel 4 on 27 August 2001 and hosted by Jamie Theakston.
The original Channel 4 minisite is nolonger available but you can view it archived @ The Wayback Machine
This is my top 15 (including the position they appeared in the original list.
28 Jamie and the Magic Torch
3 Dangermouse
42 Battle of the Planets
6 Mr Benn
21 Knightmare
37 Chorlton and the Wheelies
22 Trumpton
4 Bagpuss
27 Roobarb and Custard
35 Banana Splits
80 Cheggers Plays Pop
10 He-Man and Masters of the Universe
39 The Adventure Game
90 Runaround
76 We Are The Champions
The Simpsons would be in my list, but I never considered it a kids show (I'm too old to have watched it)


Final And Definitve Order Of Results:

1 The Simpsons
2 The Muppet Show
3 Dangermouse
4 Bagpuss
5 Grange Hill
6 Mr Benn
7 Rainbow
8 Scooby Doo
9 Dr Who
10 He-Man and Masters of the Universe
11 The Magic Roundabout
12 The Clangers
13 Wallace and Gromit
14 Rentaghost
15 Maid Marian and Her Merry Men
16 Tom and Jerry
17 The Wombles
18 The Flintstones
19 Hong Kong Phooey
20 Worzel Gummidge
21 Knightmare
22 Trumpton
23 Postman Pat
24 Thunderbirds
25 Jim'll Fix It
26 Thomas The Tank Engine
27 Roobarb and Custard
28 Jamie and the Magic Torch
29 SM:TV Live
30 Sesame Street
31 The Basil Brush Show
32 Boss / Top Cat
33 Blue Peter
34 Byker Grove
35 Banana Splits
36 The Sooty Show
37 Chorlton and the Wheelies
38 Roland Rat
39 The Adventure Game
40 Why Don't You?
41 Tiswas
42 Battle of the Planets
43 Play School
44 Batman
45 Captain Pugwash
46 Press Gang
47 Crackerjack
48 Fingerbobs
49 The Tomorrow People
50 Multi-Coloured Swap Shop
51 Captain Scarlet
52 The Herbs
53 Timmy Mallett's Wide Awake Club
54 Animal Magic
55 Pipkins
56 Wind In The Willows
57 The Flowerpot Men
58 Metal Mickey
59 Pob's Programme
60 The Adventures of Black Beauty
61 Andy Pandy
62 Lassie
63 John Craven's Newsround
64 Famous Five
65 How
66 Double Deckers
67 The Snowman
68 Record Breakers
69 Mary, Mungo and Midge
70 Jackanory
71 Bob The Builder
72 Michael Bentine's Potty Time
73 Pokemon
74 Skippy
75 Noggin The Nog
76 We Are The Champions
77 Catweazle
78 Tweenies
79 Hammy Hamster's Tales From the Riverbank
80 Cheggers Plays Pop
81 The Adventures of Robin Hood
82 Pinky and Perky
83 The Secret Garden
84 Vision On
85 Just William
86 Hector's House
87 The Woodentops
88 Teletubbies
89 Daktari
90 Runaround
91 Magpie
92 Screen Test
93 White Horses
94 H R Pufenstuf
95 Children's Film Foundation
96 The Singing Ringing Tree
97 Crystal Tipps and Alistair
98 Muffin the Mule
99 Do Not Adjust Your Set
100 Junior Showtime

Link: 100 Greatest Kids' TV Shows archived @ The Wayback Machine

18/08/2011
Conservative Prime Minister Margaret Thatcher had been in office for two years in 1981; policies to push privatisation of state-owned industries and utilities and the reform of the trade unions, combined with mass closure of heavy industry and factories contribute to the highest postwar levels of unemployment and a year remembered for a summer of civil unrest as the spending cuts and monetary policy bite deep. 100,000 people from across Britain march to Trafalgar Square in London for the TUC's March For Jobs.
After racial tension builds up, riots break out in Brixton, Peckham, Toxteth and Handsworth and by the end of summer riots against police occur in many towns and cities.

"Ghost Town" by The Specials hits number one in the UK charts, capturing the political mood of the summer.
John Lennon spends 6 consecutive weeks at number one with "Imagine" spending 4 weeks at the top, to be replaced by "Woman"; Adam and the Ants also have two number ones with "Stand and Deliver" and "Prince Charming".
Bucks Fizz win the Eurovision Song Contest for the UK with the song "Making Your Mind Up".
MTV hits the airwaves for the first time, Buggles' "Video Killed the Radio Star" is the first song to be played.
BBC Two adaptation of The Hitchhiker's Guide to the Galaxy begins airing.

David Jason stars in the BBC One sitcom "Only Fools and Horses" which is also broadcast for the first time this year. School children rushed home to watch Dangermouse, broadcast for the first time in 1981, as a crime fighting mouse with a hamster as a side kick repeatedly save the world. "Crumbs, DM!"

"Crumbs" indeed! The toasted sandwich was born, thanks to Breville the country lived on melted cheese for a while.

On the big screen An American Werewolf in London, Gregory's Girl and the multi award winning Chariots of Fire are all released this year.

In the same year that sees Liverpool win the European Cup for the third time, legendary former Liverpool manager Bill Shankly dies aged 67. Aston Villa win the English League Championship The 100th FA Cup final is won by Tottenham Hotspurs (for the sixth time in their history) 3-2 in a replay at Wembley against Manchester City. Bryan Robson becomes Britain's most expensive footballer in a £1.5million move from West Bromwich Albion to Manchester United.

A 22-year-old John McEnroe ended Sweden's Bjorn Borg's record run of victories at the Wimbledon

Thousands of people jog through the normally quiet Sunday streets of the capital to compete in the first ever London marathon.

Shergar quite simply strolled away wit h the Derby. And then, just to prove how good he was, he walked off with the Irish Derby and the King George VI and Queen Elizabeth stakes as well.

Two years after he had been diagnosed with cancer and given just eight months to live, jockey Bob Champion wins the Grand National on Aldaniti in an emotional tale of courage for both jockey and horse.

In the Ashes, England are 105 for 5 in their second innings and need another 122 just to make Australia bat again. With defeat at Headingley looking inevitable, Ian Botham (having just resigned as England captain) comes to the crease and his 149 not out transforms the match, which England go on to win by 18 runs, and turn the series.

President Reagan is shot in the chest by 25-year-old former Yale student John Hinckley, the bullet was successfully removed from his left lung. He allegedly quipped "Honey, I forgot to duck" a line from a 1930s film, when his wife Nancy visited him in hospital.
It was a year for failed assassination attempts, Pope John Paul II is shot as he blessed crowds in St Peter's Square from his Pope-mobile. The pontiff was hit twice in the stomach by 23-year-old Turkish gunman Mehmet Ali Agca in protest against Soviet action in Afghanistan and US involvement in El Salvador.

The first IBM PC hit the shelves in 1981, with a 4.7Mhz processor and the cheapest model had 16K of memory. Disk drives were an optional extra but each 5.25inch disk could hold 160K of data.

It's the wedding of the year, if not the century, as Prince Charles marries Lady Diana Spencer at St Paul's Cathedral. Britain goes wild, bunting is strewn and union flags are waved by the masses, and 700 million television viewers tune in around the world.
29/07/2011
Created by the same animation team of Brian Cosgrove and Mark Hall that brought the world 'Chorlton and the Wheelies', 'Dangermouse' and 'Count Duckula', 'Jamie and the Magic Torch' is a childrens cartoon based around a young boy, Jamie, his English sheepdog Wordsworth and his magic torch (funny that).
It debuted on ITV from 1976 to 1979, although I remember watching it in the 1980s, so it must have been rerun. The series was written and narrated by Brian Trueman, who later wrote 'Dangermouse' and 'Count Duckula'.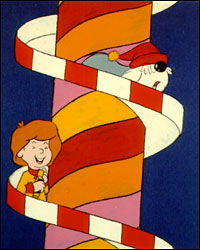 Each episode starts with Jamie's unseen mother saying "Sleep well, Jamie", and as soon as the bedroom door closes Jamie leaps out of bed, grabs hold of the torch that Wordsworth passes to him and shines it on to the floor, the torch light then opens up a swirling portal. Jamie and Wordsworth then jump through the portal, which manifests itself as a helter skelter, and the pair would arrive in a psychedelic fantasy dimension called Cuckooland.
All of this is accompanied by my all time favourite TV theme song (written by Joe Griffiths).
Remember, this is the 70's and nobody is suggesting that any drugs were taken by any of the people involved in Jamie and the Magic Torch but it does capture the psychedelic cultural moment.
But, if arriving in a psychedelic world via a brightly-coloured helter skelter based portal with a talking bobble-hatted English sheepdog wasn't surreal enough, have a look at the characters that inhabit this world:
Mr. Boo - an absent-minded roller-skating professor who flies around in his 'Sub-machine', obsessed with counting things.
Police Officer Gotcha - who appears speeding over the horizon with his siren blaring, on a unicycle, and eats truncheons
Nutmeg the rag doll - who has a magic pocket that can produce virtually anything she needs
Wellybob - a brash, yellow Scottish cat who does everything backwards
Strumpers Plunkett - Cuckoolands resident musician who plays melodies on his trumpet nose (Trombonium)
The Yoo-hoo Bird - who constantly plays tricks on Officer Gotcha.
BullyBundy - a show business rabbit with extraordinarily oversized feet and an ego to match
Jo-Jo Help - a particularly unhandy handy-man who never has time to help
Jamie, with the aid his magic torch (obviously), is always ready to help out his odd night-time friends, while Wordsworth, who has ability to speak in Cuckooland, is less helpful and slightly more synical and arcastic often expressing his opinion on just how strange everything and everyone in weird dimension really is. (I wonder if BullyBundy actually ended up as 'rabbit pie' - which always seemed to be Wordsworth's suggestion.)
Once each escapade ends, Jamie and Wordsworth always return home, Slightly unconvincingly going backwards up the helter skelter (unconvincingly, as the starting sequence was shown in reverse at the end of the show) arriving back in bed just as Jamie's mother comes in to check on them in the morning; she never suspects a thing! I'm not sure if Jamie or Wordsworth ever get any sleep!
Jamie is classic childrens escapism - a portal to a different world (a la 'Mr Benn' or 'The Lion, the Witch and the Wardrobe') and it mirrors the stories where the characters come alive when no one is looking (think 'Bagpuss', 'Toy Story' or ), classic, but given a 70's psychedelic twist.
Full of humour and surrealism, utterly bonkers but hugely entertaining, the show is fondly remembered by almost all who have seen it and also boasts a great rock anthem of a theme tune! Grab yourself the DVD and wallow in this stuff for a whole evening, pausing only to sip a glass of Tizer and sing along...
"Jamie! Jamie! Jamie and the Magic Torch.
Down the helter skelter, faster and faster towards Cuckooland.
Wordsworth! Wordsworth! Following hard behind.
Ready for adventure, always there to lend a paw... or hand!
Mister Boo and all the others too, the strangest people you've ever seen.
And the torch with its magical beam...
If I hadn't really been there I'd think that I was dreaming!
Jamie! Jamie! No two nights are the same...
And life is one long glorious game...
With Jamie...
Jamie and the Magic Torch! "
---
Jamie And The Magic Torch - Complete Series 1
This cult children's television series followed the adventures of Jamie a young boy who has a magic torch which when shone on to his bedroom floor transports him and his dog Wordsworth into a magical mystery world...
Features all 13 episodes of the first series with over two hours of adventures!
20/07/2011
This is another good example of somebody with too much time on their hands, but that's not a bad thing. Hats off for combining some of our favourite things, namely Lego, Football and Star Wars.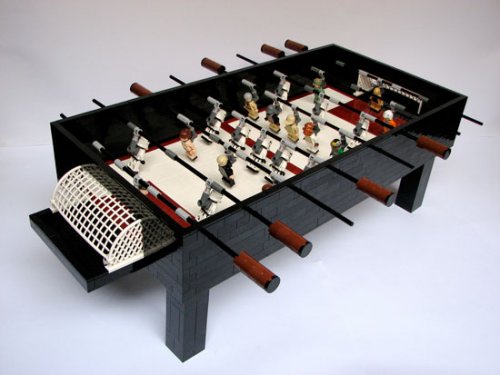 Lego Star Wars Table Football was created by Flickr user 2x4
Previous Posts
Keyword Cloud
1970s
,
1980s
,
Aardman Animation
,
Bagpuss
,
Battle of the Planets
,
BBC
,
Boxed Sets
,
Breville
,
Button Moon
,
Cartoons
,
Childrens TV
,
Chorlton and the Wheelies
,
Cosgrove Hall
,
Count Duckula
,
Dangermouse
,
Department S
,
DVDs
,
He-Man and Masters of the Universe
,
Jamie and the Magic Torch
,
Jason King
,
John Lennon
,
Kids TV
,
Knightmare
,
Morph
,
Mr Benn
,
Mugs
,
Music
,
Only Fools and Horses
,
Rainbow
,
Roobarb and Custard
,
Sport
,
The Adventure Game
,
The Hitchhikers Guide to the Galaxy
,
The Sooty Show
,
Trumpton
,
Video Clips
,
We Are The Champions
,
Retro Shop
Links
Archive