05/09/2008
What on earth do you get that 60s child who's got everything? Well ponder no more, because this is the most stunningly original gift they could ever hope for!
'A Quarter Of...' have been doing masses of research, and have put together this fabulous 60s Decade Box - an enormous wooden chest filled to the brim with the most popular sweets from the Swinging 60s - if this doesn't bring a nostalgic tear to their eyes, nothing will!
It weighs a WHOPPING 3.5 kg (that's 7.7lb!) and it measures 28cm x 18cm x 18cm (11in x 7.1in x 7.1in) and it contains all these lovely goodies that will make the lucky recipent go all misty-eyed:
Strawberry Bonbons, 250g
Sweet Tobacco, 125g
Fruit Gums, 5 tubes
Brown Gems, 250g
Jelly Babies, 250g
Golf Ball Bubblegum, 250g
Lions Sports Mixtures, 250g
Kola Kubes, 250g
Lemonade Fizzballs, 250g
Chocolate Sticks, 2 packs
Flying Saucers, 50
White Mice, 250g
Parma Violets, 4 tubes
Super Candy Whistles, 4
Coconut Mushrooms, 250g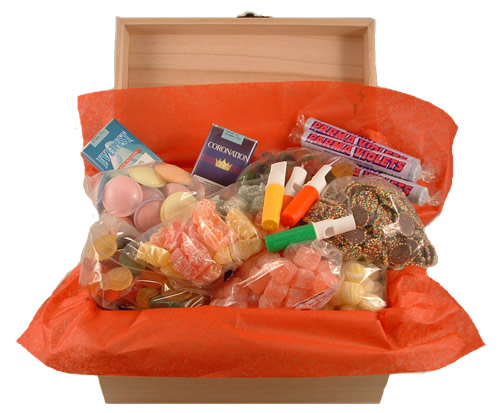 More details about "60's Decade Sweet Box"
Keywords:
Previous Posts
Keyword Cloud
Links
Archive