01/01/2010
Everything you need to make your Own Chas out of Plasticine! Follow the step by step instructions DVD containing an introduction to Chas by Peter Lord the man who created Morph and Chas.
Then sit back and laugh your socks off with 10 bumper length episodes.
My Own Chas comes with fun pieces to accessorise your character and create different poses and Plasticine never dries out so you can re-pose your model time after time!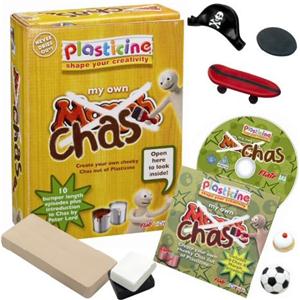 My Own ChasPlasticine Set (With Free 10 Episode DVD)
Keywords:
Previous Posts
Keyword Cloud
Aardman Animation
,
Bagpuss
,
BBC
,
Blakes 7
,
Book Ends
,
Childrens TV
,
Cosgrove Hall
,
Count Duckula
,
Dangermouse
,
Department S
,
Domesday
,
Doorstop
,
Douglas Adams
,
Downloads
,
DVDs
,
Free Game
,
History
,
Hitchhikers Guide to the Galaxy
,
Infocom
,
Jason King
,
Morph
,
Music
,
Olympics
,
Plastercine
,
Remakes
,
Sci-Fi
,
Sport
,
Take Hart
,
The Adventure Game
,
The Flumps
,
TV
,
Vinyl Figures
,
Zokko
,
Retro Shop
Links
Archive